VLP Super Antigen
The rapid development of R&D for antibody drugs has entered the 2.0 era. With the increasingly fierce competition in the field of innovative antibody drug research and development, the discovery of differentiated antibodies or the discovery of antibodies specific to difficult targets will be a better choice to maintain competitiveness. Therefore, the importance of antigen proteins as the raw materials for the early development of antibody drugs cannot be overemphasized. metaphor.

VLP is the abbreviation of Virus Like Particle, which is derived from the outer capsid protein of the virus and is a tiny nanoparticle formed by the automatic assembly of one or more capsid proteins. VLP particles do not contain viral infectious genomes, so they are safe during manufacturing operations. With the development of technology, based on the effect of VLP in efficiently activating the body's humoral and cellular immune responses, the role of VLP-displayed antigens in the discovery of antibodies to difficult targets is obvious and has great advantages.
VLP-displayed antigens can overcome the problems of low abundance and weak immunogenicity of many proteins, especially for multiple transmembrane proteins. KactusBio has the self-developed SAMSTM new functional recombinant protein and antibody R&D and production platform, and has developed a series of biotinylated and non-biotinylated VLP display antigen products, which can flexibly meet customers' evaluation needs for antibody research and development, and is suitable for SPR , BLI and ELISA program research.
Product Applications
-Antibody discovery: immunization, screening, functional characterization
-Affinity determination: ELISA, SPR, BLI
-Blood sample determination: ELISA
Product Case Study
Human CD24 VLP
Fig.1 VLP-CD24. bioactivity assay by ELISA.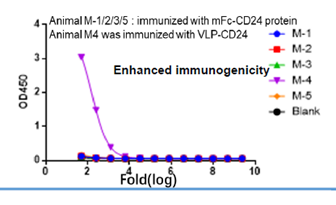 Fig.2 Enhanced immunogenicity of Kactus VLP-CD24.
Human Claudin 6 VLP
Fig.3 VLP-Claudin 6. bioactivity assay by ELISA.
Fig.4
 VLP-Claudin 6. bioactivity assay by SPR.
Biotinylated Human CCR2b VLP
Fig. 5 Biotinylated Human CCR2b VLP bioactivity assay by ELISA.
Fig. 6 Biotinylated Human CCR2b VLP bioactivity assay by SPR.