FGFRs
FGFR (Fibroblast Growth Factor Receptors), generally includes four types of FGFR1-4 (also known as CD331-334). FGFR is a branch of the tyrosinase receptor family, which is a type I transmembrane protein usually functioning as a dimer. Among them, the extracellular domain contains three Ig-like regions D1 (IgI), D2 (IgII), and D3 (IgIII), of which D1 and the Acidic box form an autoinhibitory region, and D2 and D3 are responsible for ligand binding (D2 and cell surface Heparan sulfate is combined, D3 has two forms of IIIb and IIIc due to alternative splicing, and only one isoform of IIIc is currently found in FGFR4). According to the number of Ig-like domains, FGFR can be divided into two forms, one is α-type, which contains three regions of IgI, IgII, and IgIII; the other is β-type, which only contains IgII and IgIII.
FGFR structure (Babina IS, et al., 2017)
The ligand of FGFR is FGF. There are 18 kinds of human FGFs that have been discovered. Except for FGF19, FGF21, and FGF23, which are endocrine, the rest are  paracrine. Among them, FGF7 can only bind to type IIIb FGFR2. The combination of FGFR and FGF mediates the activation and transmission of signaling pathways such as RAS-RAF-MAPK, PI3K-AKT, JAK-STAT and PLCγ, and participates in important physiological functions such as cell growth, differentiation, migration, neovascularization, regulation of organ development and wound healing. FGFR gene mutations are commonly found in solid tumors such as lung cancer, liver cancer, intrahepatic cholangiocarcinoma, breast cancer, gastric cancer, uterine cancer, and bladder cancer, and there are differences in the types and frequencies of FGFR mutations in different cancer types.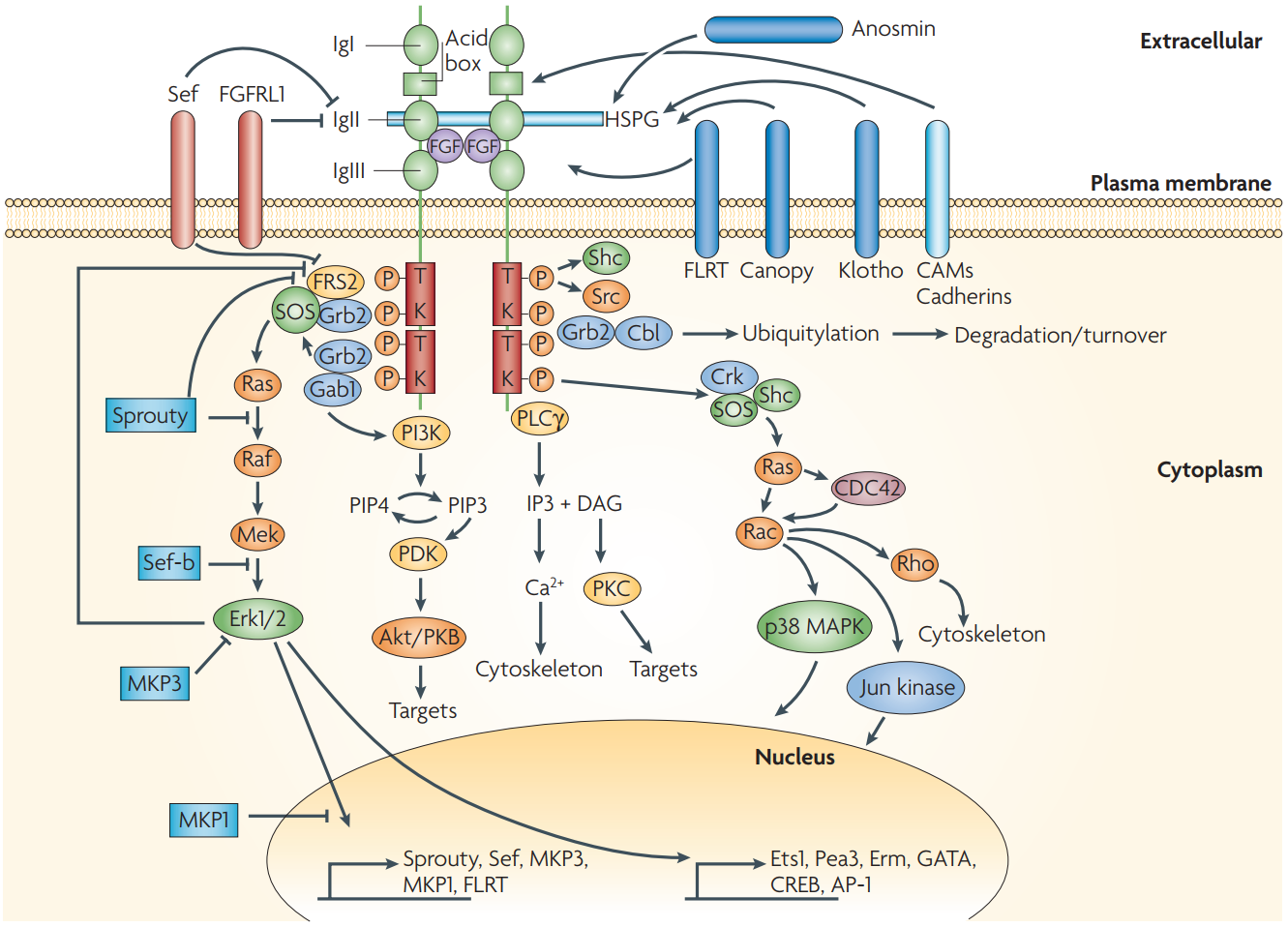 FGF-FGFR-mediated signaling pathway (Mason I, 2007)
KACTUS has deeply analyzed the structural differences of FGFR family proteins and successfully prepared various types of FGFR recombinant proteins, covering α and β isoforms, as well as different forms such as IIIb and IIIc, supporting the differentiated research of FGFR-targeted drugs.
Product Validation Data
Human FGFR2 beta (IIIb) Protein(FGR-HM1BB)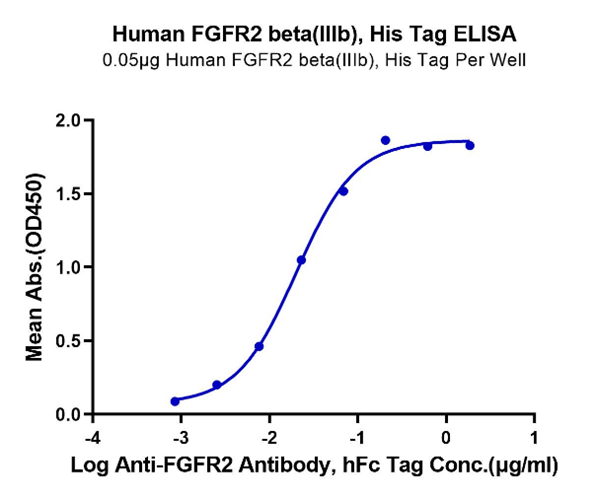 Immobilized Human FGFR2 beta(IIIb) at 0.5μg/ml on the plate. Dose response curve for Anti-FGFR2 Ab., hFc Tag with the EC50 of 20.2ng/ml determined by ELISA.
Anti-FGFR2 Ab., hFc Tag can bind Human FGFR2 beta IIIb, His Tag with an affinity constant of 1.98nM as determined in a SPR assay (Biacore T200).
Human FGFR2 alpha (IIIb) Protein(FGR-HM1BD)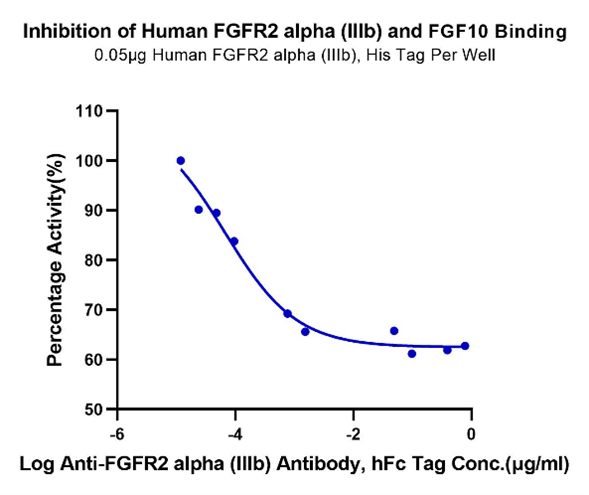 Serial dilutions of Anti-FGFR2 alpha (IIIb) Antibody were added into Human FGFR2 alpha (IIIb), His Tag : Biotinylated Human FGF10, No Tag binding reactioins.