Gene Editing Enzyme Collection
Research-Grade, GMP-Ready, and GMP-Grade for a seamless transition from preclinical to clinical.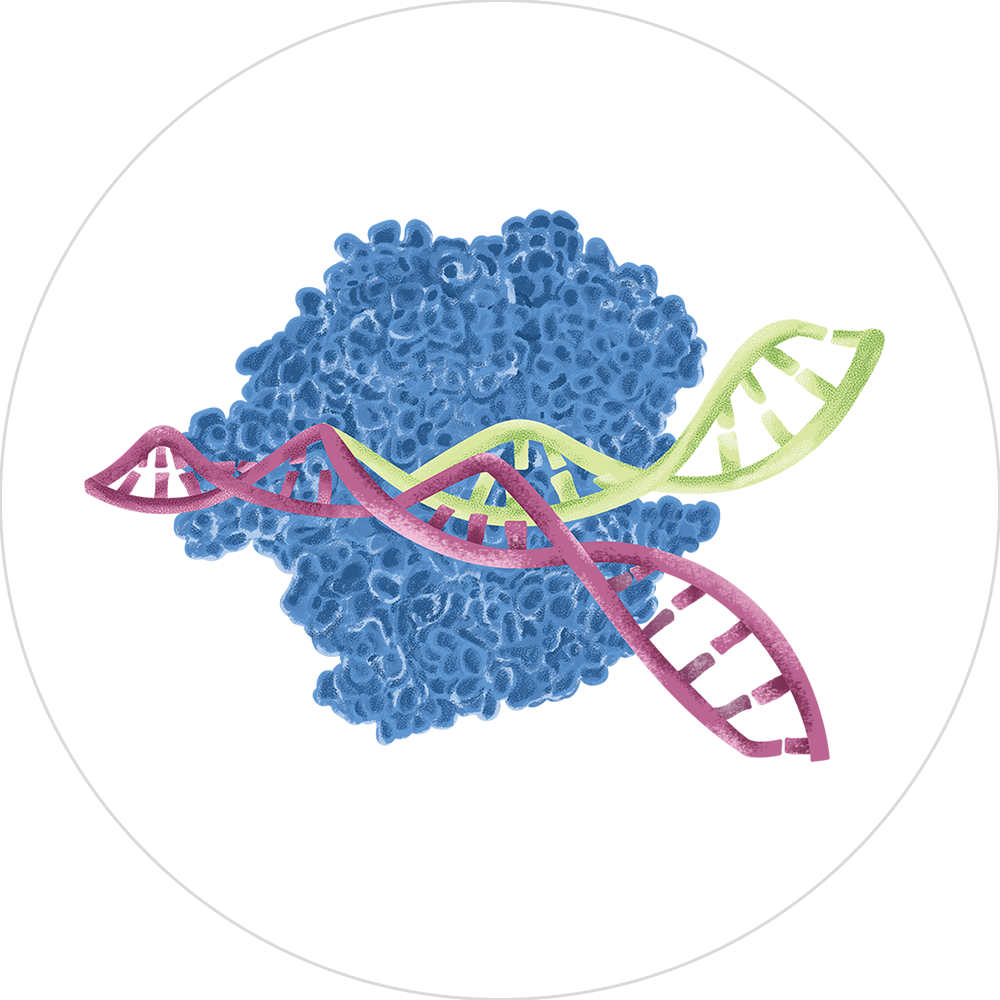 Overview
As applications involving CRISPR gene editing transition from fundamental research to clinical production, the need for high-quality input materials and comprehensive documentation is becoming paramount. To meet the evolving and rigorous specifications, KACTUS provides GMP-Grade CRISPR Cas9 Nuclease and GMP-Ready Cas12a Nuclease.
Our GMP-Grade Cas9 enzyme is produced in compliance with the stringent Good Manufacturing Practice (GMP) standards, encompassing aseptic manufacturing, traceable documentation, and rigorous testing among other criteria. This GMP-grade nuclease facilitates CRISPR gene editing, demonstrating high knockout efficiency in various tested cell lines, ensuring reliability and precision in clinical manufacturing applications. It's been optimized using our proprietary protein engineering platform, SAMS™.
Quality
cGMP manufacturing standards
Batch-to-batch consistency
Quality control specifications
Consistency
Off-the-shelf products
Routine bulk supply
Real-time and accelerated stability studies
Freeze/thaw stability studies
Efficiency
Proven Editing Efficiency in Multiple Cell Types
Expression optimization
Buffer optimization
Nuclear localization signal (NLS) design
High Editing Efficiency Across Multiple Cell Types
Gene knockout efficiency of our CRISPR Cas9 analyzed in nucleofected 293T, Jurkat, and T cells using TIDE analysis. Results show greater than 95% editing efficacy across all three cell types, comparable to leading suppliers.
Jurkat Cells
293T Cells
T-Cells
High In Vitro Cleavage Activity
Cas9
In Vitro Cleavage activity of our Cas9 enzyme. Our Cas9 enzymes cleaves >95% of substrates.
Cas12a
In vitro cleavage assay using AsCas12a. More than 85% of substrates can be cleaved by our Cas12a Enzyme.
Features of Our GMP-Grade Enzyme Production
Example GMP-Grade Quality Release Specifications
GMP-Grade CRISPR Cas9 Enzyme (#GMP-CAS-EE110)
Quantify Residual Cas9 with our ELISA Kit
In ex vivo gene therapy, after the cells are modified by the CRISPR/Cas9 system, the residual Cas9 nuclease in the cells needs to be detected before being transfused back into the human body. To complement our GMP-Grade Cas9, we have carefully developed a highly sensitive and specific residue detection kit, CRISPR/Cas9 Nuclease ELISA Kit, with a sensitivity of up to 0.125 ng/mL.
Detection Principle: This kit uses sandwich ELISA to determine the concentration of Cas9 in the test sample. The capture Cas9 monoclonal antibody is pre-coated on a 96-well plate. Cas9 binds to the detection antibody after which the biotinylated detection antibody binds Cas9. Streptavidin HRP binds the detection antibody to produce a color change with the addition of TMB substrate.
You may also be interested in: