Breakout Tumor Target: DLL3
At the ASCO annual meeting in 2023, Boehringer-Ingelheim disclosed the phase I clinical data of their bispecific antibody drug BI 764532. When the dosage is 90 μg/kg or above, 52% of patients with small cell lung cancer (SCLC) and neuroendocrine cancer (NEC) have their disease under control, with lasting curative effects, without reaching the upper dosing limit, and with controllable adverse reactions. BI 764532 targets DLL3 and CD3, simultaneously binding tumor cells and T cells in order to have a tumor killing effect. The encouraging clinical results brought DLL3 as a target for antibody drugs back into researcher's field of vision. 
Figure 1: The mechanism of action of BI 764532 and Boehringer-Ingelheim's clinical data [1, 2]. 
About DLL3
As we all know, SCLC, NEC, LCNEC (Lung Large Cell Neuroendocrine Carcinoma) and others face great challenges in clinical treatment. As a classic target of SCLC and other diseases, delta-like ligand 3 (DLL3) participates in a wide range of biological functions. DLL3 is a single transmembrane protein and is an inhibitory ligand of Notch [3], which can regulate neuroendocrine and epithelial cell differentiation in embryonic lung development. Structurally, DLL3 consists of a DLS domain in the extracellular region (highly conserved in the ligand family), an EGF-like repeat domain, and a shorter intracellular domain.
Figure 2: Schematic diagram of DLL3 structure [4, 5]. 
Unlike other mammalian Notch family members, DLL3 "settles" in the Golgi apparatus and cytoplasmic vesicles during normal development and interacts with unprocessed full-length Notch 1 and DLL1, preventing their localization on the cell surface [6]. However, in high-grade neuroendocrine tumors including SCLC, such as LCNEC, neuroendocrine carcinomas of certain other sites, and prostate cancer, DLL3 is highly upregulated and abnormally expressed on the cell surface, making it a potential therapeutic target.
Dysregulation of Notch signaling by DLL3 plays a tumor-promoting role in many malignancies, but suppresses tumor growth in gliomas, malignant gliomas, and primary liver cancers. Therefore, DLL3 plays different roles in different tumor types, which may depend on different cellular environments. In addition, DLL3 is also considered to be a transcriptional target of boneless squamous cell homolog-1 (ASCL1). ASCL1 is a key transcription factor for neurogenesis and differentiation [8], indicating that DLL3 is involved in a wider range of physiological roles. 
Drugs targeting DLL3
DLL3-targeting drugs focus on the development of antibody drug conjugates (ADCs), bi- or multi-specific antibodies, and CAR-T, such as the ADC drug Rovalpituzumab tesirine (Rova-T) developed by Abbvie. Rova-T is a first-in-class ADC targeting DLL3, and has shown good results in preclinical and early clinical studies. However, two different phase III studies (TAHOE and MERU trials) evaluating the second-line treatment and first-line maintenance treatment of Rova-T in advanced SCLC were terminated due to failure, but other clinical studies are still being explored.
Figure 4: The mechanism of action of drugs targeting DLL3 [9]
Tarlatamab developed by Amgen and HPN 328 developed by Harpoon have also received attention, both of which are antibody drugs with indications for SCLC. Tarlatamab is a dual-antibody drug against DLL3 and CD3 developed based on BiTE technology, which can act as a hub connecting T cells and tumor cells to achieve the purpose of T cell-directed immunotherapy. HPN 328 is a trispecific antibody targeting CD3, ALB (albumin) and DLL3 at the same time, which greatly prolongs the validity period and enhances the permeability. It has entered the phase I/II clinical research stage.
| | | | | | |
| --- | --- | --- | --- | --- | --- |
| Drug Name | Synonyms | Type | Developer | Highest Clinical Stage | Indications |
| Rovalpituzumab tesirine | SC16LD6.5; Rova-T; Rovalpituzumab; 89Zr-DFO-SC16.56 | ADC | Abbie (Abbott) | Phase Ill | Small Cell Lung Cancer |
| SC-002 | / | ADC | StemCentRx | Phase l | small cell lung cancer, neuroendocrine tumors |
| Tarlatamab | AMG-757 | Bispecific Antibody | Amgen; BeiGene | Phase Il | Small Cell Lung Cancer |
| BI 764532 | / | Bispecific Antibody | Boehringer Ingelheim | Phase Il | small cell lung cancer, neuroendocrine tumors |
| QLS31904 | / | Bispecific Antibody | Qilu Pharmaceutical | Phase I | advanced solid tumor |
| HPN 328 | / | Trispecific Antibody | Harpoon | Phase I/ll | Small Cell Lung Cancer |
| AMG 119 | / | CAR-T | Amgen | Phase I | Small Cell Lung Cancer |
| LB 2102 | / | CAR-T | Legend Biotech | Phase I | Extensive stage small cell lung cancer, large cell neuroendocrine carcinoma of the lung |
Table 1: DLL3-targeted drugs entering the clinic
DLL3, as a star target of SCLC, has continuous new clinical progress. Moreover, a large number of basic research and clinical trials have also confirmed that DLL3 is closely related to various other tumors. KACTUS has developed high-quality DLL3 recombinant protein products to support the research and development of drugs for DLL3-related diseases, and looks forward to the launch of novel drugs in the future to benefit patients.
Why KACTUS DLL3 proteins?

 
Multiple species such as human, mouse, and monkey to meet the needs of cross-experimentation

Various label designs for more experimental design options

Thorough biological activity verification

Reliable quality assurance

Robust batch-to-batch consistency
Product Validation Examples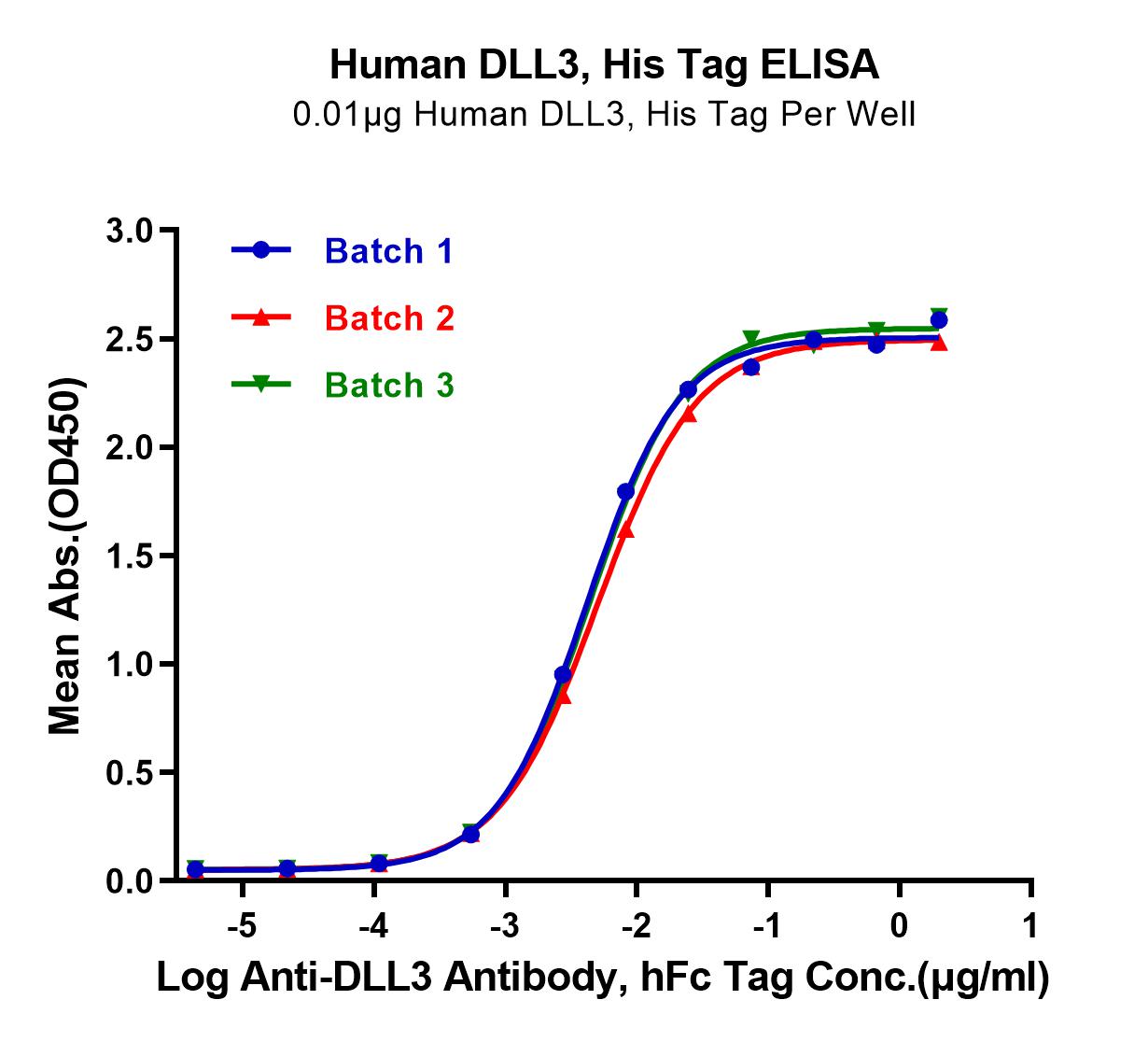 Figure 6: Immobilized Human DLL3, His Tag at 0.1ug/mL (100uL/well) on the plate. Dose response curve for Anti-DLL3 Antibody, hFc Tag with the EC50 of 5.0ng/mL / 4.5ng/mL / 5.0ng/mL determined by ELISA.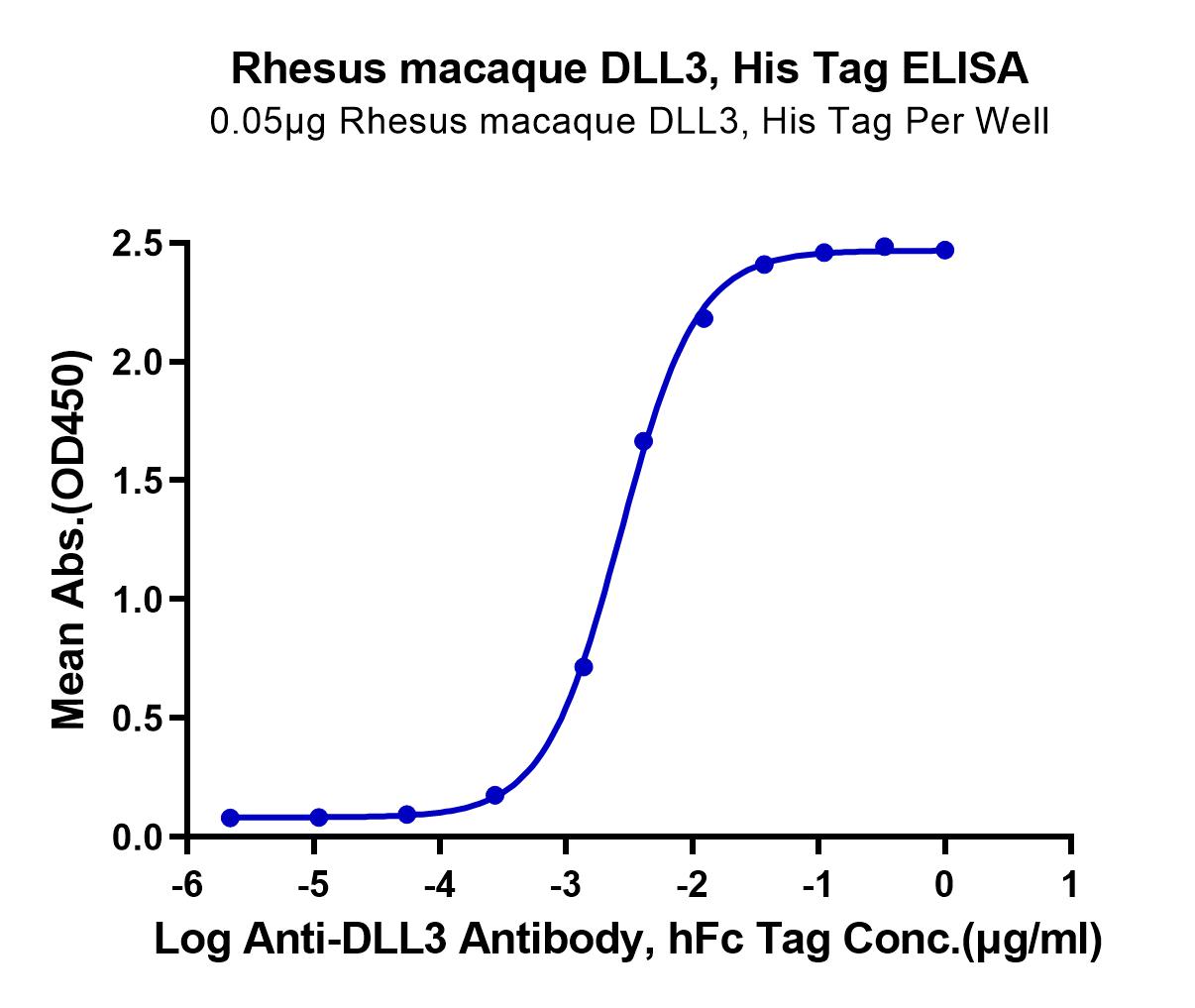 Figure 7: Immobilized Rhesus macaque DLL3, His Tag at 0.5ug/mL (100uL/well) on the plate. Dose response curve for Anti-DLL3 Antibody, hFc Tag with the EC50 of 2.7ng/mL determined by ELISA.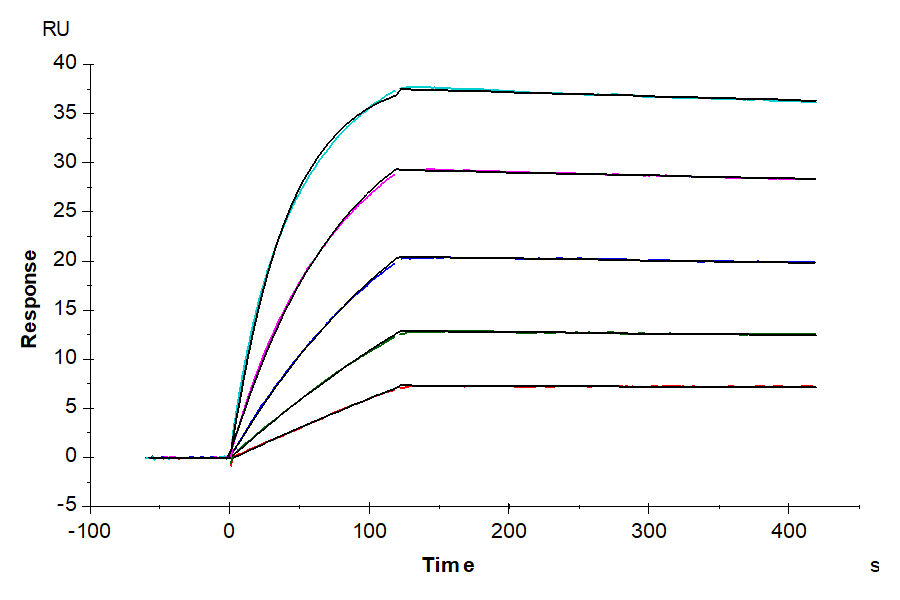 Figure 8: Human DLL3 can bind to Anti-DLL3 Antibody as detected by SPR experiment, with an affinity constant of 0.22 nM. Anti-DLL3 Antibody captured on CM5 Chip via Protein A can bind Human DLL3, His Tag with an affinity constant of 0.22 nM as determined in SPR assay (Biacore T200).
Available DLL3 Products
Expressed from HEK293 cells. Purity > 95%
| | |
| --- | --- |
| Product Name | Tag |
| | N-His |
| | N-His-Flag |
| | C-His-Avi |
| | N-His |
| | C-His |
| | N-His |
| | C-His |
Also check out our CD3 proteins here, including homodimers and heterodimers. 
References
[1] Hipp S, Voynov V, Drobits-Handl B, Giragossian C, Trapani F, Nixon AE, Scheer JM, Adam PJ. A Bispecific DLL3/CD3 IgG-Like T-Cell Engaging Antibody Induces Antitumor Responses in Small Cell Lung Cancer. Clin Cancer Res. 2020 Oct 1;26(19):5258-5268.
[2] https://legendbiotech.cn/
[3] Kunnimalaiyaan M, Chen H. Tumor suppressor role of Notch-1 signaling in neuroendocrine tumors. Oncologist. 2007 May;12(5):535-42. doi: 10.1634/theoncologist.12-5-535. PMID: 17522241.
[4] Bulman MP, Kusumi K, Frayling TM, McKeown C, Garrett C, Lander ES, Krumlauf R, Hattersley AT, Ellard S, Turnpenny PD. Mutations in the human delta homologue, DLL3, cause axial skeletal defects in spondylocostal dysostosis. Nat Genet. 2000 Apr;24(4):438-41. doi: 10.1038/74307. PMID: 10742114.
[5] https://www.uniprot.org/uniprotkb/Q9NYJ7/
[6] Chapman G, Sparrow DB, Kremmer E, Dunwoodie SL. Notch inhibition by the ligand DELTA-LIKE 3 defines the mechanism of abnormal vertebral segmentation in spondylocostal dysostosis. Hum Mol Genet. 2011 Mar 1;20(5):905-16. doi: 10.1093/hmg/ddq529. Epub 2010 Dec 7. PMID: 21147753.
[7] https://abbviescience.com/
[8] Saunders LR, Bankovich AJ, Anderson WC, Aujay MA, Bheddah S, Black K, Desai R, Escarpe PA, Hampl J, Laysang A, Liu D, Lopez-Molina J, Milton M, Park A, Pysz MA, Shao H, Slingerland B, Torgov M, Williams SA, Foord O, Howard P, Jassem J, Badzio A, Czapiewski P, Harpole DH, Dowlati A, Massion PP, Travis WD, Pietanza MC, Poirier JT, Rudin CM, Stull RA, Dylla SJ. A DLL3-targeted antibody-drug conjugate eradicates high-grade pulmonary neuroendocrine tumor-initiating cells in vivo. Sci Transl Med. 2015 Aug 26;7(302):302ra136. doi: 10.1126/scitranslmed.aac9459. PMID: 26311731; PMCID: PMC4934375.
[9] Owen DH, Giffin MJ, Bailis JM, Smit MD, Carbone DP, He K. DLL3: an emerging target in small cell lung cancer. J Hematol Oncol. 2019 Jun 18;12(1):61. Doi: 10.1186/s13045-019-0745-2. PMID: 31215500; PMCID: PMC6582566.