Full Portfolio of In Vitro mRNA Synthesis Enzymes Submitted to FDA Drug Master Files (DMF)
Contact us to request a quote or test sample!  
Following the filings of our GMP-Grade BsaI and GMP-Grade T7 RNA Polymerase, several other mRNA synthesis enzymes from KACTUS have been successfully submitted to the FDA Drug Master Files. Below is the full list of mRNA synthesis enzymes that have been submitted:
KACTUS has established a GMP-Grade quality management system and documented it in accordance with the relevant requirements of cGMP and ISO13485:2016 guidelines. We take a variety of steps to ensure complete control over the manufacturing and release process and to ensure the quality of our GMP-Grade products meet the strict requirements of drug manufacturing.
→ Produced and quality control tested in adherence to GMP standards
→ High standard protease GMP production workshop
→ Manufacturing Execution System (MES) digital production management system
→ Analytical method validation and process validation with reference to regulatory requirements
→ Batch-to-batch stability and consistency
→ Free from antibiotic residues
→ Free from raw materials of animal origin
→ Supporting regulatory documentation reviewed & approved by Quality Assurance
→ Comprehensive records for batch production and control
→ Developed following ISO13485:2016 guidelines
→ Pharmaceutical Class A & C Clean Room
→ Validated and maintained equipment
→ Stability Testing 
Comprehensive Quality Release Verification: T7 RNA Polymerase

Activity

≥ 50 kU/mL

Purity (SEC-HPLC)

≥ 95%

Residual Endonuclease

Negative

Residual Exonuclease

Negative

Residual DNase

Negative

Residual RNase

Negative

Residual Protease

Negative

Endotoxin

≤ 10 EU/mL

Residual Host Cell DNA

≤ 100 pg/mg

Residual Host Protein

≤ 20 ng/mg

Residual Heavy Metal

≤ 10ppm

Bioburden

≤ 1 CFU/10mL
Product Data
Vaccinia Capping Enzyme and mRNA Cap 2'-O-Methyltransferase have strong capping activity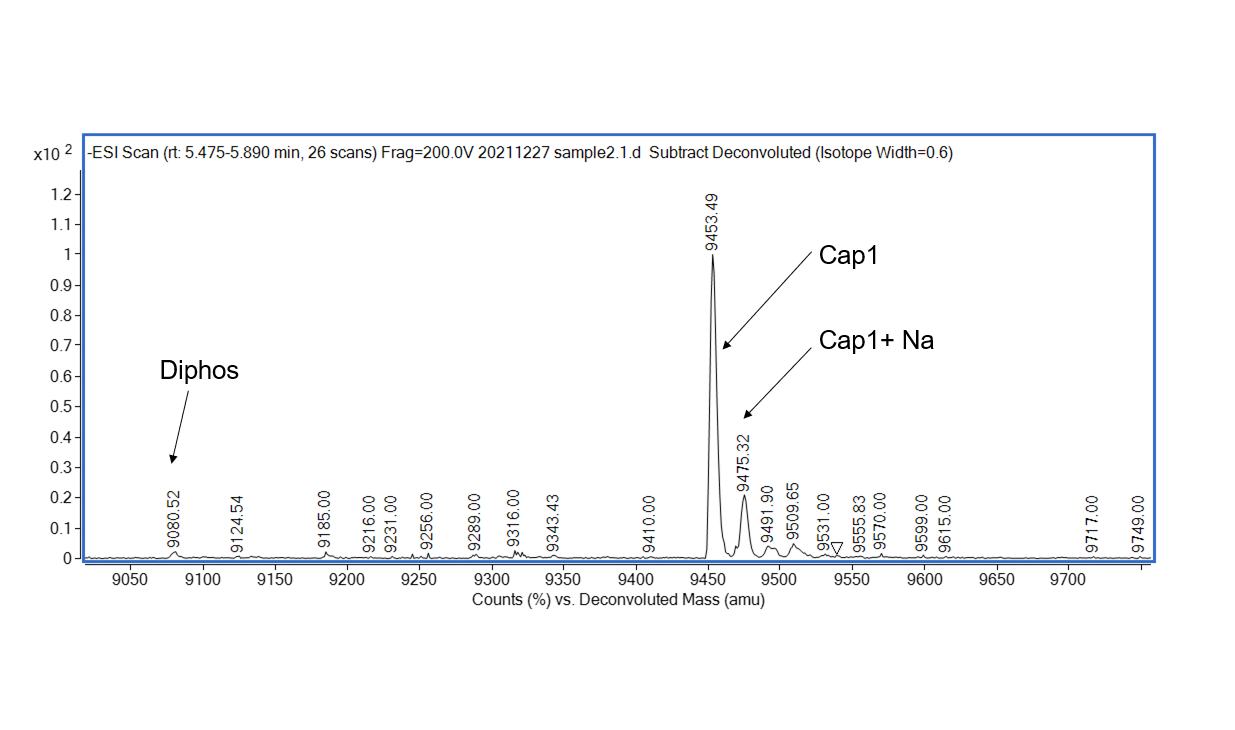 Figure 1. Detection of Cap1 capping efficiency by LC-MS. Vaccinia Capping Enzyme and mRNA Cap 2'-O-Methyltransferase were used in sequence to add the Cap1 structure to mRNA. Results showed that the capping rate of Cap1 was 99.01%.
Pyrophosphatase, Inorganic can effectively increase the production of mRNA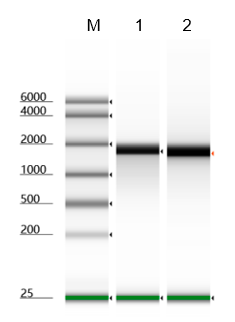 Figure 2. Pyrophosphatase, Inorganic effectively increases mRNA production. Additional inorganic pyrophosphatase was added to a 20μL in vitro transcription system, compared to the same transcription system but without Pyrophosphtase, Inorganic.
DNase I has high enzymatic activity and can efficiently digest DNA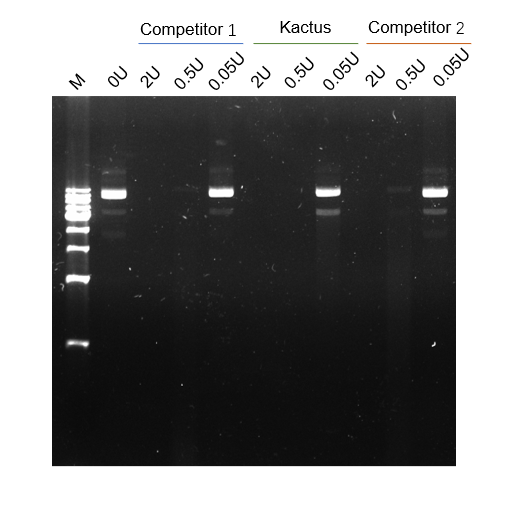 Figure 3. DNase I digestion effect on DNA. 1µg DNA was added to various activity units of DNase I in a total reaction volume of 10µL. Compared with competitors 1 and 2, DNase I of KACTUS had a stronger digestive effect. 
Product List
| | | |
| --- | --- | --- |
| Catalog Number | Product Title | Sizes |
| | | 20kU/400kU |
| | | 50kU/1MU |
| | | 10kU/1MU |
| | | 50kU/5MU |
| | | 100U/800U |
| | | 40kU/2.2MU |
| | | 4kU/40kU |